ElectionGuard is One Of Fast Company's Next Big Things in Tech!
Congratulations to the Microsoft Defending Democracy team and the awesome team from InfernoRed for being named one of FastCompany's Next Big Things in Tech.
This was a big week for our ElectionGuard team. We were recognized alongside our partners at Microsoft as one of Fast Company's Next Big Things in Tech.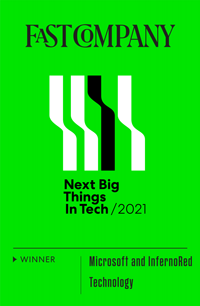 This is the first time Fast Company has created a list honoring technology breakthroughs that promise to shape the future of industries from healthcare to artificial intelligence. It is awesome to be a part of something this significant in the tech community!
The final list - which includes big name corporations and start-ups alike - recognizes 65 technologies that are having a positive impact on consumers, businesses, and society at large over the next 5 years.
---
"Fast Company is thrilled to highlight cutting-edge technologies that are solving real-world problems in unexpected ways. From climate change and public health crises to machine learning and security, these technologies will certainly have a profound impact on the future, and we're honored to bring attention to them today," says Stephanie Mehta, editor-in-chief of Fast Company.
---
I can't say enough how proud I am of the InfernoRed team and their work on this project. From our first live run in Fulton to Keith's efforts with Hacktoberfest and the open-source community, we bring the best of what we have to offer to this program.
The Winter 2021/2022 issues of Fast Company hits newsstands (remember those?) on December 7. Check it out!